Welcome, here is a detail compilation of All You need to Know About Aisha Buhari, Mamman Daura's daughter, Farouk and Buhari Alleged Wedding.
Lets Start With when the allegation began.
Buhari to get a new wife has been the trending topic on various social media and news platforms.
Reports on Various News platform has been engrossed by the recent alleged bid by the Nigerian President Muhammadu Buhari to marry Sadia Umar Farouq as a new wife.
Sadia received her first Ministerial nomination then but she was not considered because of her lack of relevant experience. Instead, she was given an appointment as Head of the Refugee Commission.
First Lady Aisha Buhari saw a red flag when she got wind of information that Sadia was being nominated a second time after Buhari won the 2019 Presidential elections.
This led to another confrontation with President Buhari during the Hajj in Mecca. But her confrontation was in vain as President Buhari's mind was already made up to marry a second wife. This explains why she traveled to London and has remained incommunicado ever since.
REACTIONS AS BUHARI ALLEGEDLY MARRIES A NEW WIFE
The Reno Omokiri reacted.
Reno Omokiri has in finalisation said that the Second Wife News of the President is true he wrote "
1-Apparently, the second wife story is true. What cant be confirmed is the date of the wedding fatiha. This man shouldn't tempt his Creator. He just recovered from serious ill health and now he wants to add another yarinya! Second Term, Second Wife! Baba o!
#SecondTermSecondWife
Apparently, @THISDAYLIVE broke the story this Sunday, but few noticed. I didn't know he had stamina like this. And he even gave the new yarinya post! I hope I am invited to the wedding Fatiha. A man who just recovered. Pray we dont hear stories that touch!
When he said he was "working hard", we thought it was government work. We did not know it was, let us just say extra curricular activities. Ha! Hard worker! Baba I hail o. Remember what happened to your mentor, Abacha? We don't want stories that touch
Queen Esther wants to take the place of Queen Vashti! We just hope that the incoming wife will not do what PEPT could not do o! We did not know that this was what he meant when he said #NextLevel! We pray this 'hard work' will not end in a London clinic!
[email protected] is working hard to make Rwanda GREAT and somebody here is working hard to make Nigeria's population GREATER. And he will he lying to us that he is "working hard" for us.'. No wonder. The man has been unusually excited these days. Bedroom power!
Then The Presidency and Sadiya Herself reacted to the develpoment
Presidency, Sadiya reacts to alleged Buhari Marriage
In the last 48 hours, social media has been awash with speculation that the minister and the nation's leader were dating and close to taking the alleged affair to the next level.
We brought you a report of Buhari alleged to get a new wife.
Minister of Humanitarian Affairs, Disaster and Management, Sadiya Umar Farouq, on Friday, denied commenting on rumors of her getting married to President Muhammadu Buhari.
She refuted tweets made using her name by a parody account.
The account had tweeted: "There have been several speculations in media regarding Marriage between Myself and Baba Buhari.
"I will like to clarify this, that me and Baba Buhari have been old-time friends and Her Excellency Aisha is my good friend and a sister. I will like to maintain this good relationship.
"Dear Nigerians, please Kindly ignore all rumors as this is not true. We're currently completely focused on making sure we have a better Nigeria. Let's continue to pray for our dear country Nigeria. God Bless."
Reacting, Sadiya Farouq, via her handle (@Sadiya_farouq) issued a disclaimer.
She tweeted: "It has come to my attention that a fake Twitter account @Sadiya_farouq_ has been created in my name.
"I wish to inform my followers and well-meaning Nigerians to disregard the handle and any information posted on it. My official Twitter handle remains @Sadiya_farouq"
This followed First Lady Aisha Buhari's continued absence from Nigeria.
She has been out of the Presidential Villa since her trip to Saudi Arabia and believed to be in London.
Also on Friday, however, Aisha Buhari, posted about the Girl Child challenges.
She tweeted: "Today, I join millions of girls around the world to celebrate this year's international day of the girl child, the theme for this year is, "GirlForce: Unscripted and Unstoppable".
"I am happy to note the progress that has been made in the area of activism by girls to protect their gender.
"I want to state that more needs to be done especially to address gender-based violence which seems to be more pronounced recently. All hands must be on deck to achieve this.
#GirlChild #GirlForce #GirlChildDay #InternationalDayoftheGirl"
Presidency speaks on Buhari marrying Sadiya Umar Farouq as second wife
The Presidency has dismissed reports that President Muhammadu Buhari was getting married to a second wife.
Reports had it that Buhari will today marry the Honourable Minister of Humanitarian Affairs, Disaster and Management, Sadiya Umar Farouq.
This came following the continued absence of the current First Lady, Aisha, who has been out of the Presidential Villa since her trips to Saudi Arabia and UK.
According to a source, who spoke on the condition of anonymity, Ms Farouk is a very close friend of Buhari and the Villa cabals love her.
However, Buhari's Special Adviser on Media and Publicity, Femi Adesina, dispelled the report, stressing that the "rumour was a deceptive manoeuvre by those who fabricated the news," The Nation reports.
According to The Nation, Adesina noted that the "news was far from the truth."
Buhari on Friday observed the weekly two raka'at jumaat prayer at the Presidential Villa, Abuja.
Among those that joined him at the jumaat prayer were presidential aides, some cabinet ministers and former governor of Zamfara, Abdulaziz Yari as well as Senator Kabir Gaya.
The jumaat prayer, however, witnessed unprecedented number of faithful.
They seemed to have stormed the Villa mosque to confirm the authenticity or otherwise of the social media reports claiming that President Buhari would have wedding fatiha for a second wife.
Meanwhile the Friday, Cable News Reported that Sadiya Farou2 was Abroad amidst the rumor
Sadiya Farouq abroad as wild rumour of wedding to Buhari booms
Sadiya Umar Farouq, minister of humanitarian affairs, disaster management and social development, is in Switzerland promoting a UN campaign against poverty as a wild rumour of a wedding to President Muhammadu Buhari ripples.
In a tweet, the minister, supposedly getting married to Buhari on Friday, canvassed for active participation of citizens in ending poverty.
"On October 17, join us as we #WalkOutPoverty. The International Day for the Eradication of Poverty is commemorated to encourage active participation by all to respect the rights & dignity of people living in poverty.#WalkOutPoverty#EndPoverty#Children @ossap_sdgs," the tweet read.
Nigerians on Twitter have asked the minister to disclose details of the "wedding".
Adewale, a Twitter user, asked the minister to display pre-wedding pictures as well as pictures of the venue.
"Hon, her Excellency in coming,we should be seeing pre-wedding pictures, pictures of venue. You and baba should not disappoint us o! Wailers won't let us rest," he tweeted.
Another user, said: "Is today not supposed to be your wedding? Common get inside for your make up and gele tying. Dont spoil our baba day ooooo. Na beg i dey beg you."
'No be my duty to confam or deny marriage proposal rumour'- Aisha Buhari
Sadiya Umar Farouq: Key facts about the woman at the centre of the 'Buhari wedding' rumour
Sadiya Umar Farouq is the minister of humanitarian affairs, disaster management and social development, a new ministry created by President Muhammadu Buhari.
Ms Farouq has been at the centre of a viral rumour that President Buhari would on Friday, October 11, marry a second wife. The peddlers of the fake news claimed that the president would be marrying the minister after Jumat service on Friday.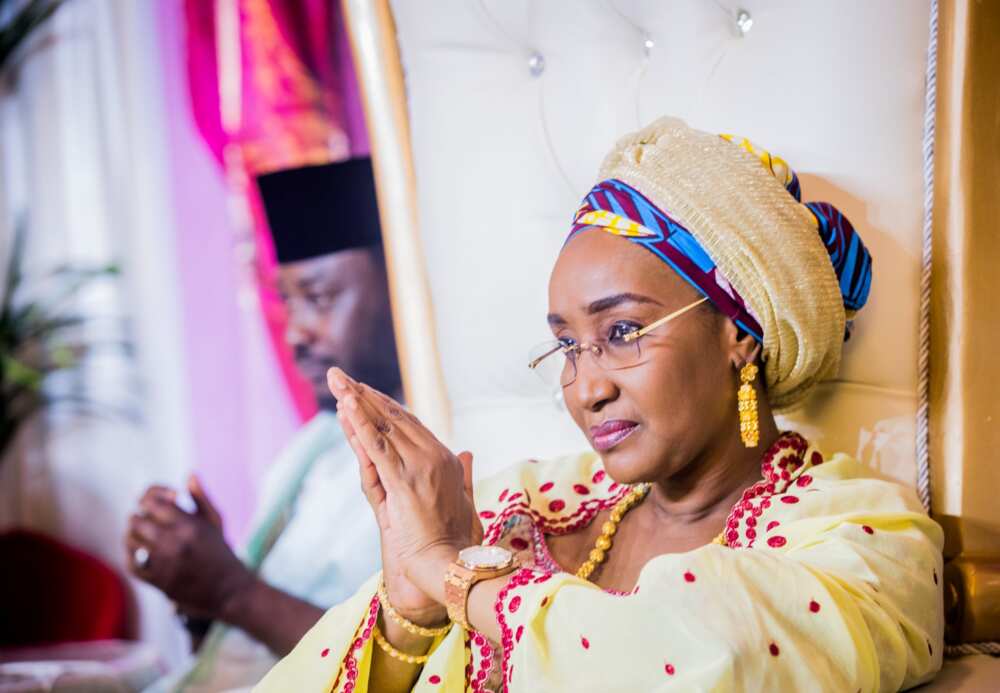 Legit.ng reports that presidential spokesman Femi Adesina has debunked the fake story. However, beyond the raging wedding rumour which has been put to rest, especially with the arrival of the First Lady, Aisha Buhari, from the United Kingdom where she had been for about two months, many do not know who Sadiya Umar Farouq really is. Here are key facts you should know about Ms Farouq:
Ms Farouq during the celebration of her appointment as Buhari's minister. Photo credit: Sadiya Umar Farouq Source: Twitter Birth Ms Farouq was born on November 5, 1974.
She is from Zurmi local government area, Zamfara state. Education She attended Federal Government Girls' College Gusau, Zamfara state after which she proceeded to Ahmadu Bello University (ABU), Zaria, Kaduna state where she obtained her first degree in Business administration in 1998.
She further obtained her Master's degree in International Affairs and Diplomacy in 2008. In 2011, she bagged a Masters in Business Administration (MBA), both from the same university.
Political life/appointments From 2011 to 2013, Farouq occupied the position of the national treasurer of the Congress for Progressive Change (CPC), the party on which platform President Buhari contested for the 2011 presidential election which he lost to former president Goodluck Jonathan.
The CPC is one of the four political parties that merged to form the ruling APC which eventually ousted Jonathan and the PDP in 2015.
She was the APC's national treasurer from 2013 to 2014. She was thereafter appointed as a member of the All Progressives Congress Presidential Campaign Council.
She headed the election planning and monitoring, field operations, and fundraising committee making her play a pivotal role in the success of the party in the 2015 general elections. She formerly headed the National Commission for refugee, migrants and Internally Displaced Persons (IDPs).
Aisha Buhari Returns From UK After Rumour Of President Buhari Getting Married On Saturday
Nigeria's First Lady, Mrs. Aisha Buhari, has returned to the country two months after she left for the United Kingdom for what was regarded as a holiday.
This came on the heels of an alleged wedding slated for last Saturday between President Muhammadu Buhari and Hajiya Sadiya Umar Farouq, recently appointed by the former to head the Ministry of Humanitarian Affairs, Disaster Management, and Social Development
Mrs. Buhari arrived at the Nnamdi Azikiwe International Airport, Abuja, at about 4:30 am via a British Airways flight and was received by wives of present and former governors as well as other friends.
The president's wife had announced her coming back to the country last night while leaving London, at about 8:56 pm.
Making the announcement on her Twitter handle, @AishaMBuhari, the first lady said Mrs. Modupe Oguntade, the wife of Nigeria's High Commissioner to the United Kingdom, Retired Justice George Oguntade, was seeing her off.
Speaking to reporters on arrival, Mrs. Buhari said she was happy to be home after a well-deserved rest.
She confirmed that she was fully rejuvenated to continue the work of improving the health and well-being of women, children, and other vulnerable Nigerians.
Then Aisha Admitted to the Viral Video as Reported by Pulseng
First Lady Aisha Buhari returned to Nigeria from the UK at about 5am on Sunday, October 13, 2019, looking as tanned, happy and colorful as ever.
She arrived shortly after rumour mongers took to the social media space with tales that President Muhammadu Buhari had concluded plans to marry a second wife at the Aso Rock Mosque.
According to the tales, Buhari was all set to marry his Minister of Humanitarian Affairs, Disaster Management and Social Development, Sadiya Umar Farouq on Friday, October 11, 2019.
Stories of an imminent presidential wedding turned out to be false.
However, in the hours leading to the rumoured wedding, a video emerged of a lady screaming herself hoarse in a furnished apartment.
This lady's face was cut off in the footage, so it was doubly difficult to make out who she was, even though the posters made it clear the screaming, angry lady was Aisha Buhari.
From the footage, the furious lady was saying to no one in particular in an admixture of English and Hausa: "This is the villa…we have over 200 soldiers guarding us…200 policemen guarding us..why do you have to lock this door? What for? What for? Enough is enough!! Enough is enough!!! Let me know when you are leaving this place." 
No one from the presidency debunked the authenticity or otherwise of the videos or the location while the furor lasted.
Owning up to it all
When Mrs. Buhari arrived Nigeria, she told journalists who had caught up with her at the airport that she was the one in the footage.
"The video was an old video," the First Lady said with a smile. "The event happened. It was me. Actually it happened in the Villa."
There were no details of what this event was or what left her upset on the day. However, Mrs. Buhari has had a running battle with a cabal in her husband's presidency since Mr. Buhari won a first term in office in 2015.
She has also wasted little time accusing faceless members of this cabal of holding her husband hostage and truncating his good plans for the people who elected him into office.
Mrs. Buhari explains lengthy absence
Mrs. Buhari's prolonged absence from Nigeria sparked the rumours in the first place. On the airport tarmac, she explained why she was away for that long.
"Last year, I was in Spain for two years with my daughter. I have never abandoned my children. I give them the motherly support they need. Usually, we embark on a holiday every year for six weeks. I have taken my holiday for this year. And it happened that after the holiday, I needed to attend to my health before going to Saudi (Arabia) and when I went to Saudi, based on the doctor's instructions, I went back to the UK again. I am well now, but still I need more rest.
"I'd like to seize this opportunity to thank my husband for approving six SAs (Special Assistants) and PAs (Personal Assistants) to my office to allow me to attend to the home-front and also to some developmental projects in Nigeria for women and children", the First Lady said.
The palace wedding that never was sparked memes and conversation aplenty on social media and was weaponized by the president's supporters and opponents alike to poke fun at the other party.
The News Agency of Nigeria (NAN) reports that an unprecedented number of Muslim faithful had stormed the mosque on the day in what appeared to be an attempt by some "curious worshippers'' to confirm or denounce social media stories of the president's wedding.
However, the worshipers, who were at the Aso Rock mosque to witness "the social media `created' wedding Fatiha'', were disappointed as they only witnessed Mr. Buhari exchanging pleasantries with citizens after the prayer session.
The President's Special Adviser on Media and Publicity, Femi Adesina, referred to the rumoured wedding as "a deceptive manoeuvre by those who fabricated the news."
Mamman Daura's daughter alleges- Dailypostng
How Aisha Buhari attacked me in Aso Villa – Mamman Daura's daughter alleges [AUDIO]
Fatima, one of the daughters of Mamman Daura, President Muhammadu Buhari's nephew, has accused the wife of the President, Aisha Buhari of attacking her inside the Presidential Villa in Abuja.
She spoke on Monday in an interview with BBC Hausa in Abuja.
Fatima commented on a viral video where the first lady was seen complaining about being denied access to her apartment.
In the video, which trended on Friday while the rumour mill was agog that the president was getting married to Sadiya Umaru Farouq, Minister of Humanitarian Affairs, Disaster Management and Social Development, the president's wife was seen speaking in anger.
While the President's wife has confirmed the authenticity of the video, Fatima said she least expected her to act in a violent manner in the first place.
In a BBC Hausa interview, Fatima who claimed responsibility for recording and releasing the video, said she did so as a proof that Buhari's wife confronted her violently in 2017.
Excerpts from the interview:
"My name is Fatima. I am a daughter to Mallam Mamman Daura… if one reasons well, he or she will understand that it is not possible to say that the wife of the president is denied access to her apartment but let me give a context," she said.
"The apartment in question is called the Glass House. You know that there are several houses and apartments in the villa. When the president got into office, he gave the Glass House to our father, Mamman Daura.
"You all know that they are friends and are related, more so, they grew up together like twins. When he became president, he gave the Glasshouse to our dad and said he should stay there. Our dad stayed there for three years now until when the president's son, Yusuf, had an accident and went to Germany for treatment.
"When he returned, the president told our dad to move out of that apartment to an even bigger one in the villa, that Yusuf is going to stay and be treated in the Glass House. The Glass House is closer to the main presidential apartment and that will make easier access to him by his mother. It is not in her apartment, which is in the main apartment."
Fatima narrated what led to the incident that was captured in the video, saying she recorded it to use as evidence against the first lady.
"(On that day) My mom and dad were not around. So, my dad instructed me and my elder sister, both of us are working and we go to work every morning, that we should come on a Saturday and move our belongings to the new apartment the president instructed," she said.
"We planned to park out then and have even concluded moving all the things. All of a sudden, in the afternoon as we were busy on that errand of packing our belongings when we heard noise from outside. I was in an inner room in the house while my sister was in an outer one close to the main gate of the apartment. So my sister went out before I could come out.
"On getting there, it was the wife of the president. When she came, the door was locked and she picked a metal chair and broke the door. I have sent the picture to you. My sister that went out was almost hit by the chair. She threw the chair which broke through the door and almost hit my sister.
"I was so shocked and afraid of getting there because she was shouting and reigning abuses words and saying we should move out of that apartment. That she has never seen this kind of thing before. I then went back and picked my phone because if one is to say that she acted that way, no one would believe it without a proof. She has already been saying a lot of things depicting that she is being suppressed.
"So I recorded it to show our parents and the security, so that they will know the truth should anything happen. Because the way she was raging and shouting, I was thinking that she would pick something and hit us with it or something like that. That was why we recorded it. Had it been we wanted to release the video, we would have done it earlier. But you know if a video clip enters one or two hands, you can't control where it will get to.
"There are even other clips that have not been released, I will send them to you to see how she was insulting the security and how she drove them away saying who are they protecting and calling them bloody idiots. Its all on the video clip. That was what happened."
President Muhammadu Buhari's wife, Aisha, has made revelations on the power tussle at the State House in the Presidential Villa, Abuja.
In an interview with BBC Hausa on Monday, Aisha Buhari again confirmed the viral video that circulated online last week.
The First Lady said she ranted after she was denied access to parts of the villa by Mamman Daura and his family.
A source had disclosed this to DAILY POST.
Mamman Daura does not hold an official position in the Nigerian government but is regarded as one of the most powerful men in the presidency.
Aisha said: "I was the one in that video and this person you see standing at my back are my security personnel.
"It was Fatima, the daughter of Mamman Daura that shot the video in front of my security and everybody there. She was actually recording the whole thing right in front of me and was laughing and mocking me.
"They did that because my husband sacked them from the house. He told them to get all their belongings and leave the house for my son (Yusuf) to occupy.
"I left them and wanted to get to one of the rooms but they prevented me from getting through, I left them and took another way yet I met the store locked," she added.